Green energy is a key element of the green transition. Therefore, all thinkable solutions in all thinkable sizes and shapes are needed to solve the climate crisis.
---
'Sunshine as a Service' is not yet the most widely used concept. But perhaps it will be.
Danish startup Second Sun has developed a solution to get sportsclubs to switch off the energy-intensive artificial lights that currently keep the pitch green for matches at major clubs. And it's a drain on the climate.
The replacement is an advanced system of intelligent software and motorised mirrors that automatically adjust to the trajectory of the sun, allowing the lawn to grow using reflected natural light rather than artificial lighting. And that's not just good for clubs' green consciences, but also for the bottom line.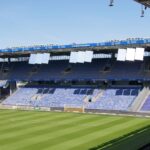 "With our simulation tool and variables like weather data and stadium location and construction, we calculate how many extra hours of sunshine we can deliver. We compare this with their current power consumption for artificial lighting, and from these calculations we can show that for an average football club in Europe it takes 3-5 years to pay back the installation," says Nicolai Moustgaard, co-founder and CEO of Second Sun ApS.
The system could typically save a major stadium 10 million kroner and 2,000 tonnes of CO2 over a 10-year period. And Second Sun has even built on the financing model itself, so everyone can participate.
"Our solution is a relatively large capital project, and that might stand in the way of clubs opting for it, even if the facility pays for itself relatively quickly. So we've teamed up with a financing partner to offer 'Sunshine as a Service', where clubs only pay for the sunshine we provide," says Nicolai Moustgaard.
Empowered by software
Since 2018, the startup Enyday has been behind a platform for housing associations and developers that helps with all the practicalities of shared solar installations. Because the hard part is in the operation; the settlement between the different residents, the legislation and the cooperation with existing electricity suppliers.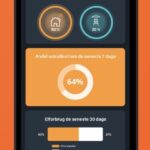 "Our platform allows people to create energy communities in a manageable way, where they don't have to think about much other than whether they want to invest in solar or not," explains Christopher Tolstrup Rasmussen, founder of Enyday, and continues:
Enyday's software makes it easier for the housing association to make the decision about a shared solar PV system. And it paves the way for a more decentralised energy revolution.
"Unlike the very centralised approach to greening with wind turbines, we work directly with local communities. It's also about engagement, and we can accelerate green transformation locally in buildings and cities. We juggle complexity so communities can discuss battery solutions and panels rather than focusing on how to operate it in practice," Christopher Tolstrup Rasmussen says.
---