The threshold is often too low when crediting agencies hand out green certificates to companies and organisations. And it risks hindering real green change, German climate startup-founder, Lubomila Jordanova, warns.
---
Sustainability is now on most people's lips. And in public conversation, terms like "green air travel", "climate-compensated milk" and "eco-friendly avocados" are often bandied about. But many labels and certificates often end up being too easily bought, without having a real positive impact on the climate.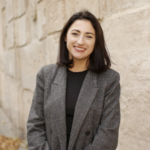 That is the analysis of Lubomila Jordanova, co-founder and CEO of Plan A, one of the fastest-growing cleantech startups in Europe. The Berlin-based company has with its AI-powered B2B carbon accounting, decarbonisation and ESG reporting SaaS tool raised a $3M seed round in early 2021 and opened offices across Europe including in London, Munich, Paris after a $10M Series A round in November 2021.
"I've been debating publicly for a long time whether all the labels that give companies instant gratification aren't counterproductive to the green transition. Because we don't have time to shout out how successful we are on the climate front when you can currently open a credit bureau and give out awards for organisations that have plants in the office. That's just nonsense," Jordanova says.
One of the more prominent Danish cases is the large dairy Arla, which advertises "CO2 -neutral," organic milk. This means that the cows' greenhouse gas emissions are offset – compensated – by Arla paying for a new forest in East Africa, among other things. The idea is that trees absorb the amount of CO2 from the atmosphere that the company emits.
But there are many uncertainties associated with climate offsetting.A report by the Danish Climate Change Council (KOR), based on two studies, finds that up to 80 percent of all attempts at climate offsetting are unlikely to have yielded more reductions or removed more CO2 than if companies had kept the money in their pockets.
"Certification and labels are generally not a bad thing. But the threshold for when you can label sustainability and other green labels needs to be much, much higher if we are to meet the goals of the Paris Agreement," the young entrepreneur says.
Since 2017, Lubomila Jordanova has been behind the Plan A platform, which enables companies to measure and monitor their carbon and ESG performance. The platform captures millions of data points, providing an understanding of where the greatest opportunities for improvement lie. The AI software then automatically draws tailored action plans, solutions and activities for the company's decarbonisation and ESG improvements.
Today, the start-up already has major international clients such as BMW, Société Générale, JOKR, Apax and the EU.
Not just about numbers
Prior to Plan A, Lubomila Jordanova worked in banking with investments, venture capital and fintech in Asia and Europe. In 2022, she was named among the "Top 50 Female Entrepreneurs in Germany 2022" by Handelsblatt and was named one of the "35 Innovators Under 35 2022" by MIT Tech Review and is currently part of the six-month Obama Foundation Leaders Europe program.
A go-getter, some would call her. That is why she personally understands the value of giving people the time and resources to become smart in a field. So they can run the initiatives.
"Sustainability is not just about numbers, but just as much about dedicating resources and time to the issue. For example, appointing a sustainability officer to train your company's teams, increase activities and drive change at all levels of your organisation. We need change across the board," says Lubomila Jordanova.
The message is clear and direct, but in fact it should be understood from a business perspective, says the German entrepreneur.
"I think we still have a few more years where some companies will try to squeeze out the return from fossil fuel investments. But as the new energy crisis shows, the instability caused by climate change will lead to vulnerability on virtually all types of returns on those kinds of assets. So the biggest deterrents will be seen in the numbers. It will be because of climate risk, new consumer and employee behaviour, and changes at institutional level that companies will make a green transition," says Lubomila Jordanova.