The focus on entrepreneurship is growing at the Danish universities and startup-hubs are encouraging more and more students to start their own businesses with what they have learned through their studies.
---
Aishah, Camilla and Mathias were actually searching for an internship in a company as part of the study of medialogy at Aalborg University. But then an opportunity arose to do an internship together with students from Truemax and the National Film School of Denmark.
"All three of us were admitted to this programme, where, for the first time, an animation film was to be produced in a game-engine – that is, with gaming technology which is usually used for developing computer games. And, in a Danish context, using it for films was a completely new concept," says Aishah Hussain.
That made them think, that there might be an opportunity of using gaming technology as a digital tool in films. Not long after, they started the company 'Amunet Studio' with the help of the incubator at Aalborg University. For instance, they received mentor guidance and carried out their work from here the first year. At the same time, they received an 'Innofounder Graduate' grant, which financed their salaries in the first phase of development.
Today, Aishah, Camilla and Mathias all work full time on the startup.
"The traditional pipeline for using computer graphics in films is very long. But using game engines, we are able to see everything live, which saves a lot of time in production. The technologies are not new, of course, but at first they were very expensive and only used in Hollywood. Now they've become much cheaper, so many more can afford them" Aishah Hussain says.
Mission impossible: Beating Microsoft
"When I was a kid, something in me wanted to beat Microsoft, and I've thought about it ever since."
Jørn Guldberg laughs as he says it. But a computer science degree at SDU in Odense later, he and fellow students Patrick Jakobsen and Jakob Kjær-Kammersgaard have founded their own computer company, QuasiQS – a protocol for a more stable and secure operating system, which will initially be put into use in robots and similar IoT gadgets.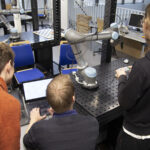 "Our technology enables us to send encrypted messages to the robot without also obscuring the identity of the sender of the message. This is an approach to permissions that is very different from the current operating systems out there, and it provides a different kind of security, which is great for people who work with robots. With our technology they don't have to worry about the robot starting before they're ready because someone starts or updates it through the network," Guldberg explains.
The three founders of QuasiOS were already well underway with the development of their operating system whilst they were studying at University of Southern Denmark, and were assisted in this process by SDU Entrepreneurship Labs.
Although the operating system from QuasiOS is still in the early stages of development, with their new protocol, the SDU founders are really rethinking digital security. » If there is a ransomware attack, which can shut down a whole network, our solution ensures that such an attack can only reach one computer, « Jørn Guldberg explains.
Research is becoming pain treatment
A couple of years ago, Tor Emanuelsen, Mathis Rosenberg Sørensen, and Morten Kirkegaard did not know each other. But after Aalborg University matched the founders of the startup REDO with each other and armed them with a series of groundbreaking research findings, the company is getting ready to enter the market with a revolutionary technology that can reduce the pain of chronic pain patients.
REDO expects RELEARN, as they call their form of treatment to be a groundbreaking development, , when it passes the official clinical trial phases, they expect.
"By visualizing the brain activity from a pain experience around a specific movement, it becomes easier to work with the nervous system's reactions to what hurts and does not hurt. Our technology shows this to the patient in the same way as a heart rate monitor would show your heartbeat," Mathis Rosenberg Sørensen says.
Based on existing research, REDO's technology visualizes pain-related brain activity in real time. That bodes well for the pain patients of the future, who through physical and mental rehabilitation can learn to manage the brain activities related to the pain – and in the long run control it.
"In the long run, we hope to be able to provide a treatment that reduces the need for medication and symptom treatment. With RELEARN, patients can work with exactly their pain challenges, and we very much hope that this will be a revolution for people who suffer from chronic pain every day," Mathis Rosenberg Sørensen says.