This post is also available in: Danish
Big decisions are to be made when you're in the transition phases of your working life: When you need to land your first job as a recent graduate, are between jobs or are considering becoming an entrepreneur. That's why Akademikernes A-kasse sees it as its most important task to prepare its members for the future.
This is especially true in the step from being an employee to becoming an entrepreneur, where the unemployment insurance fund offers the startup programme "Startup Growth" to its members, which prepares them for startup life and tests their ideas.
"In the programme, you get counselling and advice from the country's leading experts in law, accounting, tech sparring and everything you can think of in starting your own business," says Malena Sigurgeirsdottir, Startup Manager at Akademikernes A-kasse.
---
What the participants say:
"Startup Growth is a groundbreaking programme that kick-started my life as an entrepreneur and gave me the tools and network to dare to throw myself into life as a self-employed person. The fact that an unemployment insurance fund offers such a professional and well-planned entrepreneurship programme as a membership offer is unique and still a secret that is far too well-kept." – Rikke Gemzøe, Gemzøe Consulting
"The mentors have been really good at looking at my business ideas and telling me what the next steps could be, and they have created a lot of useful contacts that I have utilised afterwards." – Anita Neutzsky-Wulff, CEO and owner of Biocamino
"It's almost like a training programme with an exam every month. The other participants keep you on your toes and you quickly become addicted to it. I'm quite sure I wouldn't be where I am today if I hadn't joined the programme." – Salim Gouasmia owner of Unmanned Technics
---
From idea to business
The programme is for members who have decided to become entrepreneurs and have considered the market, customers and competitors. For brand new entrepreneurs, there is the "Startup Basic" programme, while "Startup Growth" is for those who are further along in the process and may have already found a team.
"We help companies in the early stages of their business life cycle. If you have an idea for a product or if you are a consultant or freelancer, you can apply to us," explains Sigurgeirsdottir, who is also an entrepreneur herself, so she knows first-hand what the participants are going through and need.
For Growth participants, this program has three months of intensive sparring and office space in Akademikernes A-kass's co-working space. With hands-on business counselling and practical input through workshops and presentations, it gives members a lot of tools to start their businesses.
At the same time, there is a strong focus on creating a community among the new entrepreneurs because it has a huge impact on yield, satisfaction and survival. More robust businesses are simply created when you mingle with others who are on the same journey, as the survival rate testifies: More than 2 out of 3 businesses started through the programme are still in existence a year later.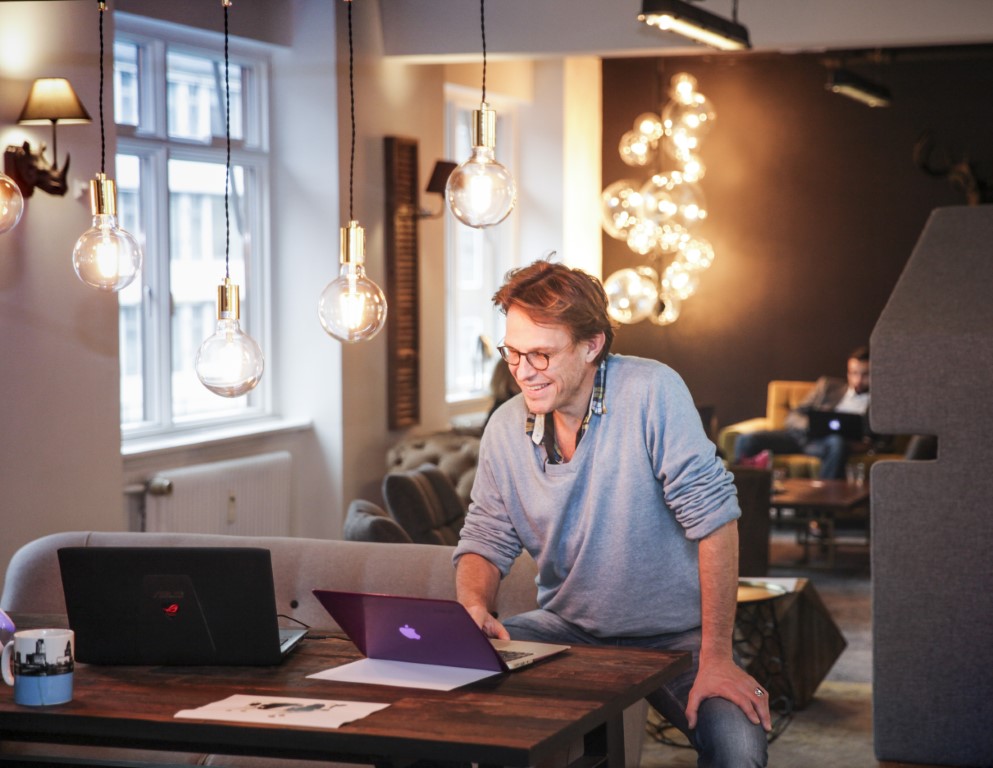 A large and inclusive programme
The programme is open to all members of Akademikernes A-kasse – including students or those who are working but dream of becoming an entrepreneur. Uniquely, the programme is not only for the most ambitious growth entrepreneurs but also for those who want to be self-employed consultants or start a small agency.
"This is an important inclusion, as entrepreneurship programmes generally have a narrow focus on companies with high growth potential. So if you're thinking about becoming an independent consultant, there's not much help available, but here we want to democratise the process and make room for both those with big ambitions and the sole proprietorships," explains Sigurgeirsdottir.
So far, the programme has helped create over 1,300 companies, making it one of the largest entrepreneurship programmes in Denmark.
---
About: Entrepreneurship programme at Akademikernes A-kasse
Startup Basic: A programme for those considering entrepreneurship and self-employment – and who need help with early-stage business development. The programme consists of 3 online courses covering business idea development, validation and sales. In addition, a physical workshop where participants can ask questions and meet and spar with other budding startups.
Startup Growth: Startup Growth is an intensive entrepreneurship programme that runs over 3 months and combines physical and digital sessions. The programme is for both solo entrepreneurs and teams, who have the option to use the co-working space during the programme.
The programmes are nationwide and are offered at locations in Copenhagen, Aarhus and Aalborg. In addition, a digital programme is in the pipeline that will be able to service members in the rest of the country.
Members of Akademikernes A-kasse can apply for a place in the programme. Consultants and agencies are also welcome.
Through the entrepreneurship programme, Akademikernes A-kasse has helped its members create over 1,300 companies, making it one of the largest entrepreneurship programmes in Denmark. Participants are measured one year after participation, and combined they have created 250+ jobs in addition to the founders' own jobs. This means that the number of new jobs is higher.
---