By Keyvan Bamdej, Head of PR & Communication at TechBBQ.
---
It's very impressive to see how TechBBQ has evolved throughout the years.
From a small grassroot movement and an event of only 300 persons for a closed circle of tech-enthusiasts in 2013, TechBBQ is today an international recognized Summit with approximately 8.000 attendees from all over the world.
Personally, I have been a part of the startup community since I graduated as a journalist from Roskilde University and the national daily newspaper Berlingske. In 2016, I attended my very first TechBBQ from when the location was at The Copenhagen Opera House. Back then I was new to the environment and a co-founder of the healthtech startup, OSAA Innovation ApS.
Here, the team and I had a physical stand to exhibit our tech solution, pitch our story and network with the large community of investors, partners and talents. This opportunity was made possible by our accelerator program, Danish Tech Challenge, which is based at DTU Science Park, a partner of TechBBQ, 20 kilometers north of Copenhagen. Realizing what TechBBQ is all about, I couldn't fathom the fact that almost every stakeholder remotely relevant for the development of our company was gathered in such a small area. Such a convenience!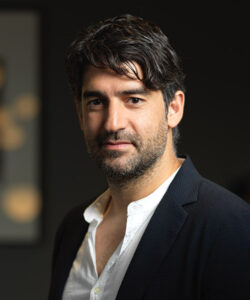 After my exit in OSAA Innovation ApS, I continued to be a part of the community, now just on the supporting end, working at Venture Cup Denmark as a Project Manager & Fundraiser from 2018-2020, boosting and promoting entrepreneurs at the Danish universities and now, completing the circle, working for TechBBQ as the Head of PR & Communications since 2021. For me, it's a constant joy to be around like-minded peers and to promote the cause of entrepreneurship as a choice of life and career for our future generations and for the common good of our society.
As you by now can comprehend, TechBBQ has always been something super special to me. But I'm far from the only one feeling this way. The Summit plays a significant and very central role in the Danish as well as the Nordic tech and innovation environment. It's the unifying figure that brings the Nordic entrepreneurial scene together and showcases the companies and technologies of tomorrow through two eventful days in mid-September in Copenhagen each year.
At TechBBQ, all of the relevant players from the industry meet across sectors and stakeholders throughout the Nordic region. TechBBQ enables new meetings as well as maintaining existing connections through matchmaking, workshops, pitch competitions, VIP-meetings, showcasing talent and startups/scaleups as well as access to the latest technology and innovative solutions.
While TechBBQ is the third largest tech Summit in Europe, it is the largest of its kind in Scandinavia. TechBBQ is both a tech conference and a physical platform for the entire startup ecosystem in the Nordics. It's where talents, founders of innovative companies, groundbreaking technologies and solutions, international thought-leaders, key-note speakers, investors, partners, media and community come together and meet. All of it done in a laid-back Nordic way.
I truly believe that TechBBQ is creating a bigger impact than it's ever given credit for.
Hopefully the Summit can continue to inspire, ignite and fuel new ideas and collaborations.
Cheers to another 10 editions. May TechBBQ continue to grow and glow.