Across the entire North in 2017, fintech firms landed investments that resulted in a combined total of over 450 million euro across nearly 100 companies in Sweden, Denmark, Norway and Finland.
The year is now 2018, and as Nordic fintech companies are settling back into their daily routines, the coming of the new year offers the chance to look back at some of the results of 2017. For Nordic fintech, 2017 was a year that saw firms across the entire North gain investor interest and raises capital.
According to Nordic Tech List, more than 450 million euro was invested in Swedish, Danish, Norwegian and Finnish fintech firms in 2017. More than 97 companies contributed to this total, a figure that is close to double the 50 firms that received an investment in 2016. On top of this, 2017 saw a large number of young startups crack the code of success and lock in investor capital. More specifically, 45 of the 97 investments were first rounds, highlighting the high number of exciting new companies looking to jump on an opportunity.
Sweden showed dominance
Glancing at the geographical distribution of the 97 companies, it becomes very clear that Sweden is miles ahead, both in regards to the number of investments, and the aggregated value of those investments.
Out of 97 Nordic fintech companies receiving an investment in 2017, a whopping 73 are of Swedish origin. Those 73 Swedish firms account for more than 350 million euro, solidifying Sweden's position as the Nordic's number one in fintech.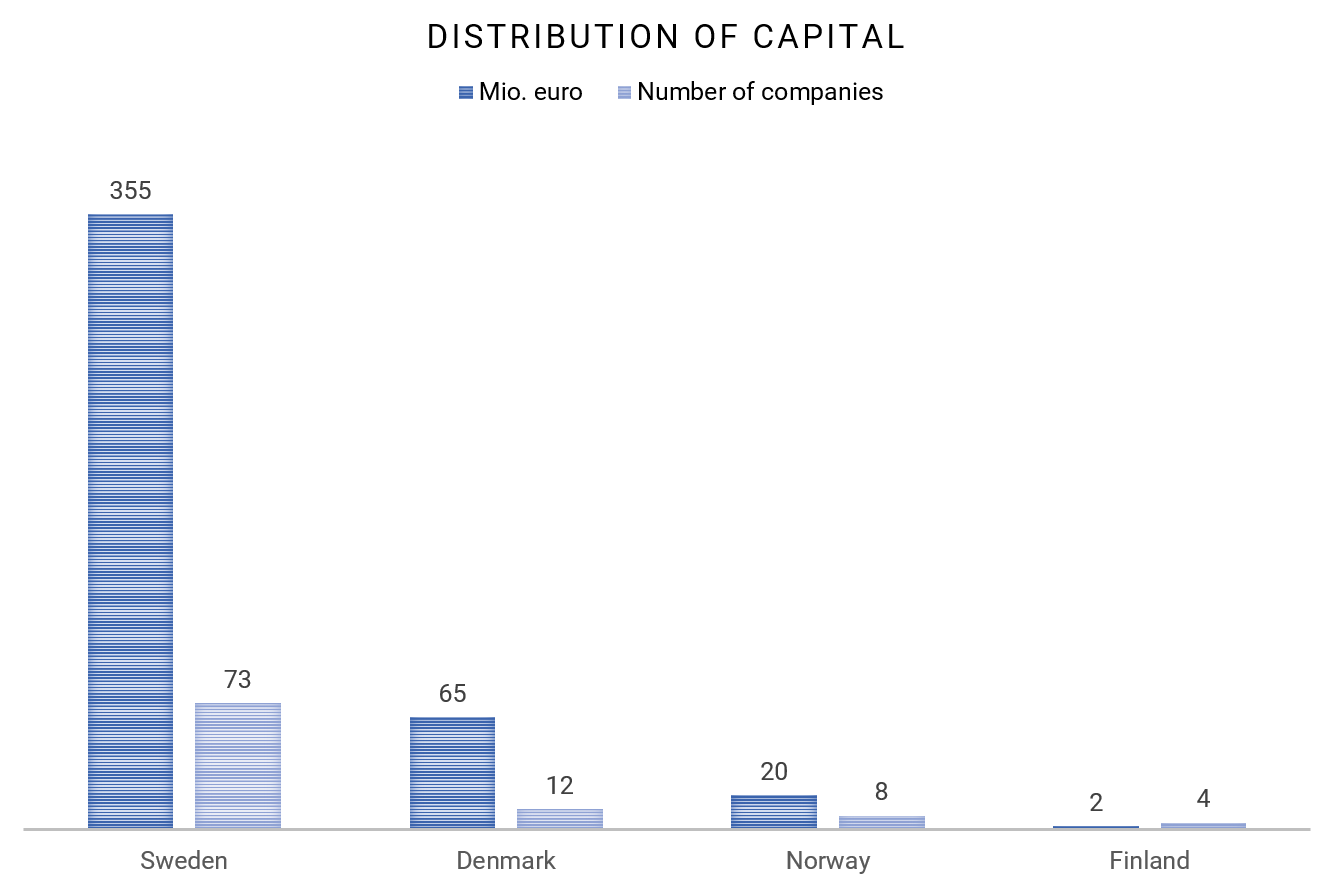 However, boosting the numbers are a few well-oiled companies. Among them is payment handler iZettle, who raked in 116 million euro alone, split across three investments. It is worth noting here that 51 million euro was earmarked debt financing.
But Sweden is not all about large investments, and new startups are also getting in on the action. One of them was F&A Forecasting, which secured 41,000 euro in its first round of financing.
Things are developing in Denmark
In the south, Denmark looks to follow in the footsteps of its Swedish neighbours. Raising an aggregated 55 million euro in 2017, the Danish fintech ecosystem seems to be developing. Here, it is worth noting that more than 50 % of the investments went to companies that were raising their first round.
A number of companies raised significant funds completing their second rounds, such as Lunar Way and Pleo, worth 5 and 3 million euro respectively.
However, a single firm, the online payment solution ViaBill, landed much of the invested capital in an impressive first round worth 40 million euro. The biggest first-round investment of the year.
Norway and Finland are moving forward
Although tiny in size compared to the numbers posted by their Swedish neighbours, fintech investments in Norway and Finland are also moving forward. While only 8 Norwegian fintech firms received an investment in 2017, all but 2 companies completed their first round, signalling growth within the sector. One first round investment, in particular, stole the limelight in Norway. Looking to widen its financial services offerings, Aprila completed an impressive first round of more than 17 million euro.
Meanwhile, 2017 saw only four Finnish companies receiving investment. However, the future is looking brighter there too, as three of the four investments were first rounds, signaling a growing national ecosystem similar to that of Norway. Additionally, the aggregated raised capital of only two million euro doesn't tell the whole story, as only one firm reported the size of the investment, leaving three undisclosed.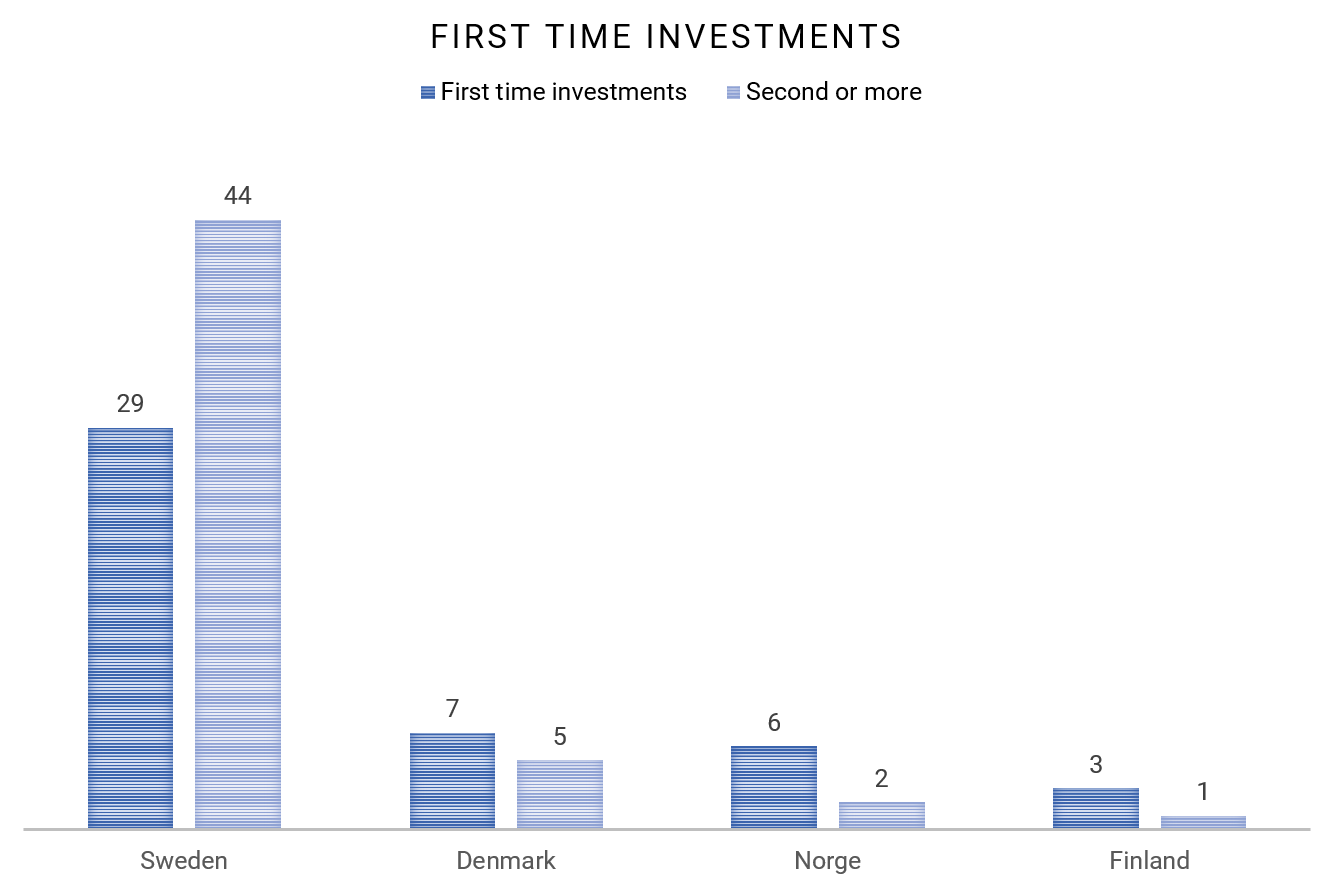 The three biggest fintech investments of each country in 2017
Sweden:
iZettle – 116 million euro
Klarna – 83 million euro
Bima Mobile – 25 million euro
Denmark:
ViaBill – 40 million euro (first round)
Lunwar Way – 5 million euro
Coinify – 4 millon euro
Norway:
Aprila – 17 million euro (first round)
Spiff – 900,000 euro (plus an undisclosed amount in Feburary 2017)
Perx – 500,000 euro (first round)
Finland:
Prasos – 2 million euro (first round)
The size of the remaining investments was not disclosed.
As the list indicates, the fintech sectors of Denmark, Norway and Finland still have some way to go if they are to catch up with Sweden. Still, investors seem prepared to gamble on new ventures, and the Nordics look like a strong place for fintech firms to thrive in the years to come.